Welcome USAA Real Estate Company Associates!
An interactive Video Tutorial that teaches you the foundations of real estate finance as well as advanced techniques and topics.  You will follow along in Excel in real time and perform exercises to ensure you are grasping the lesson and are mastering the technical skills being taught.
This product is the REFM Excel for Real Estate Level 2 Certification Preparatory Material.
Product includes the following items, which never expire:
 Online access to an easily-navigated 1 hour and 48-minute-long Video Tutorial, playable on any device including PC, Mac, phones and tablets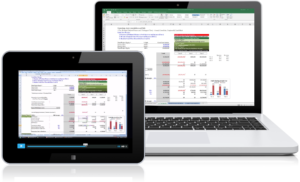 Accompanying fully-unlocked Excel file, compatible with both PC and Mac
Topics Covered (All topics include Exercises and Solutions)
The Time Value of Money Model
The Discounted Cash Flow Model
Net Present Value
Residential Property Refinancing Feasibility Case Study
Back of the Envelope Residual Land Valuation of Development Sites
Acquisition and Development Transaction Capital Structuring
Senior Construction Loan Mechanics
Multi-Party Transaction Equity Structures
Senior and Mezzanine Loan Funding and Repayment Dynamics
Staggered and Pari Passu Equity Player Funding
Maximum Refinance Loan Amount Calculation
Equity Player Profit Sharing Introduction
Preferred Return, Internal Rate of Return Waterfall and Promote Theory Basics
Excel Formulas and Functions Taught/Employed
Compounding and Discounting (FV, PV)
Net Present Value (NPV)
Conditional Statements (IF, AND)
Cumulative Principal (CUMPRINC)
Minimum (MIN)
Video Chapter Headings
Time Value of Money Theory Explanation
Time Value of Money Example
FV Function Review
PV Function Review
Case Study Assumptions
Investment Cash Outflow
Base Rent
Escalations
Percentage Rent
Expected Return
Year-Over-Year Growth
Cash-On-Cash Return
Present Value of Cash Flows
NPV
Discount Rate Selection
DCF Exercise
NPV With Different Discount Rates
Residential Refi Exercise Case Study
Case Study Outcome
Underwater Property Options
Underwater Property Exit Math
Residual Land Valuation Overview
Mixed-Use Office Industrial Back Of The Envelope Analysis
Allowable FAR
Ground-Floor Retail SF
Efficiency Factor
Parking Requirement
'Current' Stabilized NOI
Goal-Seeking Land Cost
Back Of The Envelope Exercise
Capital Structure 1 Tab
Equity
Senior Loan
Mezzanine Loan
Senior Debt Collateral
Mezzanine Financing
Preferred Equity
Senior Loan Interest Rates
Mezzanine Loan Collateral
Order of Funding
Order of Return of Funds
Capital Structure 2 Tab
Sponsor Equity and Third Party Investor Equity
Capital Structure 3 Tab
Partner Equity
Capital Structure 4 Tab
Senior Construction Loan Overview Tab
Loan Draws
Interest Accrual
Eligible Loan Costs
Loan Composition
Loan Size
Senior Loan Cash Interest Payments
Negative Amortization
Equity Exercise Tab
Financing Assumptions
Analysis Timeline Compression
Eligible Loan Costs
Cash Financing Costs
Capitalized Financing Costs
Operating Deficit
Total Development Costs
Positive Revenue After Cash Financing Costs
Sources of Funds
Sources and Uses of Funds Equivalency Checks
Sponsor Equity
Exercise Set Up
Simplified Sources and Uses of Funds
Direct Project Costs Draw
Cumulative Draw
Cash Financing Costs
Operating Deficit Funding
Total Funding
Total Equity Draw
Senior Loan
Interest Rate and Monthly Interest
Variable Interest Rate Modeling
Senior Loan Beginning Balance
Senior Loan Draw
Loan Fees – Front End
Loan Fees – At Draws
Senior Loan Funded Interest Reserve
Senior Loan Cash Interest Payment
Senior Loan Repayment
Senior Loan Ending Balance
Override of Senior Loan Size
Partner and Third Party Investor Exercises
Exercise Solution
Mezzanine Loan Exercise
Mezzanine Loan Solution
Mezzanine Loan Beginning Balance
Mezzanine Loan Draw
Mezzanine Loan Fees – Front End
Mezzanine Loan Cash Interests Payment
Mezzanine Loan Repayment
Mezzanine Loan Ending Balance
Sources and Uses of Funds Equivalency Check
Equity Pari Passu Funding Exercise
Equity Pari Passu Funding Solution
Maximum Refi Loan Size Exercise
Loan-to-Value Test
Debt Service Coverage Ratio Test
Debt Yield Test
Exercise Solutions
Lender's Cap Rate / Mortgage Constant
Equity Profit Sharing Introduction