Welcome Greystar Associates!
This training module is an interactive video tutorial that teaches you the foundations of real estate finance as well as advanced techniques and topics.  You will follow along in Excel in real time and perform exercises to ensure you are grasping the lesson and are mastering the technical skills being taught.
This product is the REFM Excel for Real Estate Level 2 Certification Preparatory Material.
Product includes the following items, which never expire:
 Online access to an easily navigated 80-minute Video Tutorial, playable on any device including PC, Mac, phones and tablets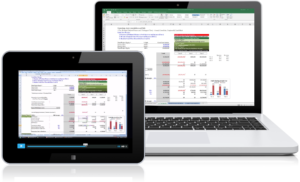 Accompanying fully-unlocked Excel file, compatible with both PC and Mac
Topics Covered
The Time Value of Money Model (includes Exercise #1)
The Discounted Cash Flow Model (includes Exercise #2)
Internal Rate of Return (IRR)
Mortgage Payment Calculation
Refinancing/Interest-Only Scenario Payment Calculation (includes Exercise #3)
Refinancing Case Study
Maximum Loan Amount Calculation (for income-producing property acquisition)
Residual Land Valuation (includes Exercise #4)
Future Net Operating Income Calculation
Transaction Capital Structures
Financing Development Transactions
Multiple Equity Investors Discussion (includes Exercise #5)
Profit Sharing Discussion
Preferred Return, Internal Rate of Return Waterfall and Promote theory
Excel Formulas and Functions Taught
Compounding and Discounting
Net Present Value (NPV) and XNPV
Internal Rate of Return (IRR) and XIRR
Conditional Statements
Mortgage Payment (PMT)
Principal Payment (PPMT)
Interest Payment (IPMT)
Minimum (MIN)
Maximum (MAX).