Welcome SEO Fellows!
Teaches the most difficult, valuable and desired set of financial modeling skills in plain English
Teaches you how to model out equity cash flow splits among up to three equity players
You can integrate the included annual and monthly waterfall models with your existing spreadsheets
An interactive Video Tutorial that teaches you advanced techniques and topics related to joint venture partnerships and investment waterfall modeling for single property transactions (not multi-transaction private equity funds).  You will follow along in Excel in real time and perform exercises to ensure you are grasping the lesson and are mastering the technical skills being taught.
This product is the REFM Excel for Real Estate Level 3 Certification Preparatory Material.
Product includes the following items, which never expire:
 Online access to an easily navigated 80-minute Video Tutorial, playable on any device including PC, Mac, phones and tablets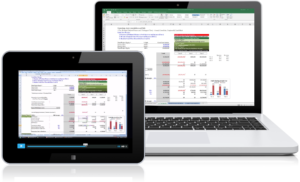 PDF of the 60-slide presentation
 Accompanying fully-unlocked, annotated Excel file, compatible with both PC and Mac, with the following tabs:
Preferred Return Non-Compounded Annual
Preferred Return Non-Compounded Annual Solution
Preferred Return Compounded Monthly
Preferred Return Compounded Monthly Solution
3-Tier Annual Waterfall with Look-Back
Double-Promote Profit Sharing
Double-Promote Monthly Waterfall # 1 with Look-Back
Exercise – Rebuild Tier #3
Double-Promote Monthly Waterfall #2 with Look-Back
Double Promote Returns Summary Exhibit
Alternate Compounding Periods
Sample Partnership Structure 1
Sample Partnership Structure 2
Sample Partnership Structure 3
Claw-Back.
Topics Covered and Exercises/Solutions Included:

Rationale behind targeting disproportionate returns to the Sponsor
How to achieve disproportionate returns through fees and partitioning of cash flows
Preferred Return overview
Preferred Return variations with respect to priority of payment
Preferred Return in context (Payment Types A, B and C)
Nature of Preferred Return (Non-compounded/compounded, non-cumulative/cumulative)
Annual Preferred Return Exercise
Monthly Preferred Return Exercise
Waterfall Distribution overview, with Animation
Promote Mechanism overview and modeling
Look-Back Internal Rate of Return (IRR) Method
3-Tier Waterfall modeling
Double-Promote, 5-Tier Waterfall modeling
Double-Promote Exercise
Alternate Compounding Periods: Monthly, Daily, Quarterly
Sample Partnership Structures
Claw-Back overview and modeling
Claw-Back Exercise.