An Excel-based projection analysis tool for the acquisition of an existing hotel that allows for the modeling of a room renovation program in addition to renovation of common areas. The model is monthly in nature, and it is a 100% unlocked file with fully transparent formulas that can be further tailored to suit the particulars of your transactions.
User-Friendly Features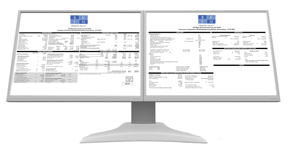 Compatible with both PC and Mac
Includes instructions for use, with detailed annotations tied to select cells
Two-page assumptions input and reporting screen optimized for dashboard-style viewing
Persistent calculation checks and data validation protections to prevent faulty inputs
Hyperlink navigation enabling fast, intuitive access to all tabs
Built-in sensitivity analysis tables that vary 2 key inputs simultaneously
Institutional-quality print-ready reports brandable to your company
Copy/paste tab for "next buyer" analysis to be housed and presented in REFMs Valuate® web-based software
Functional Highlights
A monthly-based rooms renovation simulation, with the option to have renovation activity reduce room sales
Senior and mezzanine loan acquisition financing
Permanent loan refinancing option
Separate modeling of the sale of an income-producing retail condominium unit with up to three unique tenancies
Sale valuation of the hotel and retail components off of either trailing or forward income streams
Up to three equity joint venture partnership players (supports a double promoted structure) and up to two 5-tier look-back IRR based cash flow waterfalls
Model Tabs
1    Back of the Envelope Model
2    Assumptions Input
3    Capital Structure Exhibit
4    Monthly Cash Flow Exhibit
5    Annual Cash Flow Exhibit
6    Master Retail Leasing Exhibit
7    Retail Tenant 1 Input
8    Retail Tenant 2 Input
9    Retail Tenant 3 Input
10  Partnership Structure Exhibit
11  Monthly Waterfall #1 Exhibit
12  Monthly Waterfall #2 Exhibit
13  Joint Venture Partnership Returns Exhibit – 3 Players
14  Joint Venture Partnership Returns Exhibit – 2 Players
15  Transaction Summary Exhibit
16  Retail TI and LC Amortization Schedule Exhibit
17  Acquisition Loan Monthly Amortization Schedule Exhibit
18  Permanent Loan Monthly Amortization Schedule Exhibit
Model Timeline
11 years (expandable)
Reports
Print-ready, brandable reports are included in the model. See the Sample Reports link above.
License Type And Multiple-User Pricing
Licenses are sold on a per-user basis. Multi-user pricing quotes are available here.
Included With Purchase
Blank template (inputs are all set to zero) and a version of the template with a sample deal loaded in
Standard Version of the template for crisp presentation of less complex deals
1 year of online ticket-based support
SPECIAL BONUS ($179 value)
Equity Joint Venture Partnership and Waterfall Modeling Bootcamp Video Tutorial included with purchase
Includes the following items, which never expire:
 Online access to an easily navigated 80-minute Video Tutorial, playable on any device including PC, Mac, phones and tablets
 PDF of the 60-slide presentation
 Accompanying fully-unlocked, annotated Excel file, compatible with both PC and Mac, with the following tabs:
Preferred Return Non-Compounded Annual
Preferred Return Non-Compounded Annual Solution
Preferred Return Compounded Monthly
Preferred Return Compounded Monthly Solution
3-Tier Annual Waterfall with Look-Back
Double-Promote Profit Sharing
Double-Promote Monthly Waterfall # 1 with Look-Back
Exercise – Rebuild Tier #3
Double-Promote Monthly Waterfall #2 with Look-Back
Double Promote Returns Summary Exhibit
Alternate Compounding Periods
Sample Partnership Structure 1
Sample Partnership Structure 2
Sample Partnership Structure 3
Claw-Back.
Don't need so much horsepower?