REFM corporate training sets up your employees for success by teaching them real estate fundamentals and how to be more productive in Excel.

Corporate training clients include
A high-impact, A+ training session for our analysts; well worth it!
Training our analyst class with REFM is best practice at JBG Smith.
See remote training in action
Examples of interactive Q&A at 5:40 and 6:35 marks.
Why firms choose REFM
Our time-tested training content is second to none in terms of refinement, depth and breadth
Our efficient teaching and learning format makes the most of contact hours
Our signature interactive, high-engagement training style
Our skills assessment and Certification testing programs that prove employee learning
We do not invest directly in real estate, so we pose no conflicts to client businesses
How corporate in-house training works
To make sure we understand your needs and expectations, we will schedule an exploratory phone conversation. Once we know your requirements, we will provide a formal proposal. On-site training can be as short as one-half day, and as long as two full days or more.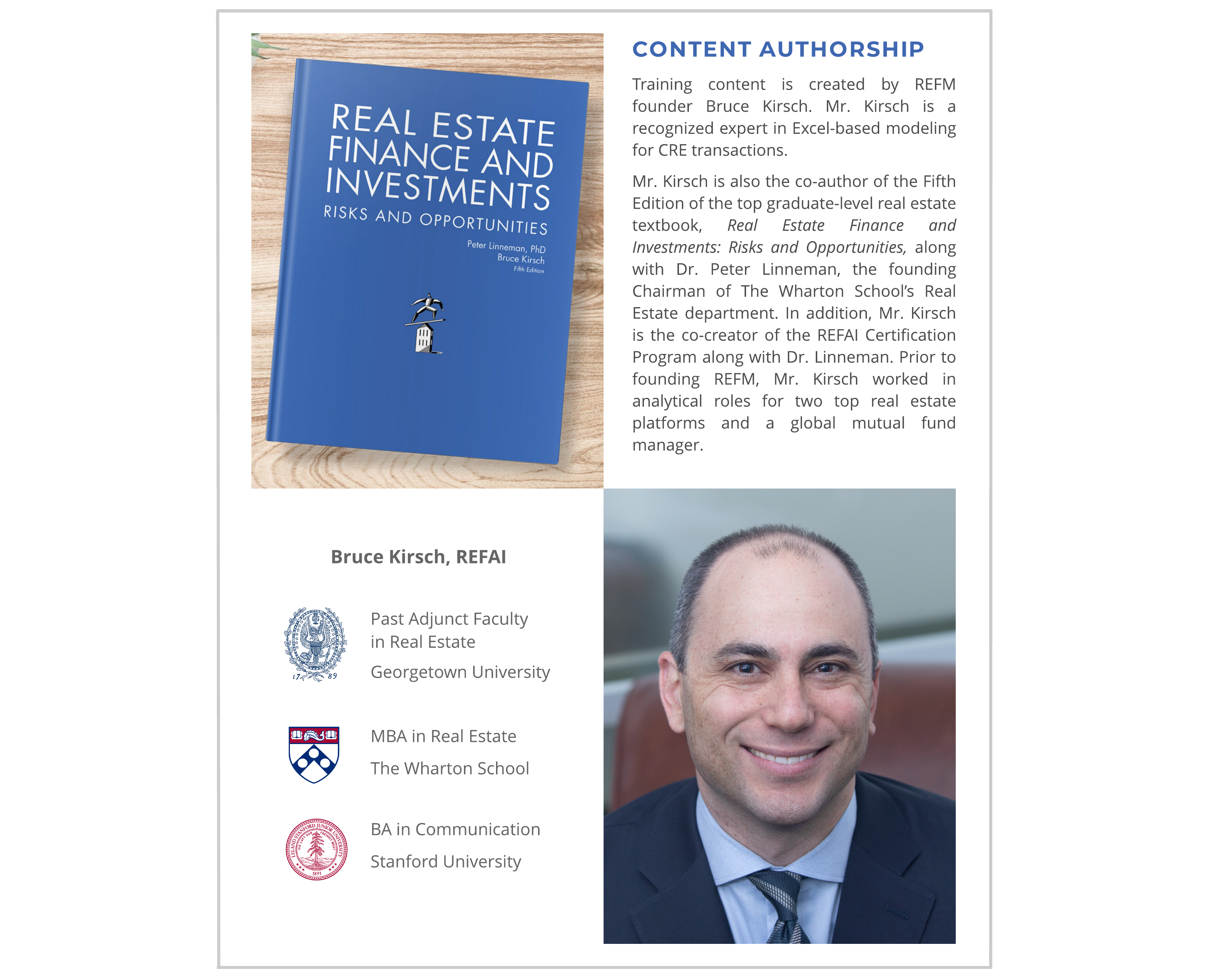 Benefits
Access to the Corporate Course Pack version of the Linneman/Kirsch textbook
Higher return on investment than sending multiple individuals to public trainings
Improved Excel-based problem-solving and analysis skills, quicker work turnaround and fewer mistakes
Increased confidence in advanced sensitivity analysis abilities
Improved financial modeling knowledge, understanding and customization capabilities
Heightened credibility with potential partners, lenders, investors and internal stakeholders
Popular training delivery formats include
Self study by employees and online Certification testing in advance of on-site training
Full-day on-site training over 2-3 consecutive days
Multiple real-time 1-hour webinars
Popular courses include
REFM's Level 1 through 3 Bootcamps

Excel For Real Estate
Real Estate Finance
Single Transaction Equity Joint Venture Partnership Waterfall Modeling

Individual asset transaction modeling

Apartment Building Acquisition and Unit Renovation
Retail Property Operating Projection and Acquisition Screening Analysis
Mixed-Use Condominium Building Development

Private Equity Fund Modeling
Our off-the-shelf content library
Our catalog of current training offerings is available below. Custom-tailored programs and testing are available upon request. Email training@GetREFM.com with inquiries.
Download Catalog
Ready to talk about your needs?