An Excel-based analysis tool for the ground-up development, operation and ultimate disposition of a single- or multi-tenant retail property with or without income-producing parking. The model is monthly in nature, and it is a 100% unlocked Excel file with fully transparent formulas that can be further tailored to suit the particulars of your transactions.
User-friendly Features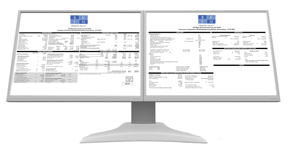 Compatible with both PC and Mac
Includes instructions for use, with detailed annotations tied to select cells
Two-page assumptions input and reporting screen optimized for dashboard-style viewing
Persistent calculation checks and data validation protections to prevent faulty inputs
Hyperlink navigation enables fast, intuitive access to all tabs
Institutional-quality print-ready reporting tabs that are brandable to your company
S-Curve distribution of Soft Costs by individual line item
No circular references impacting the calculation of the construction loan size and funded interest
Includes copy/paste tab for "next buyer" analysis to be housed and presented in REFM's Valuate® web-based software
Functional Highlights
Up to 10 retail tenants with escalations by % and/or step, and free rent
Percentage rent (overage) based on a user-input breakpoint
Up to 5 office tenants with percentage rent, escalations by % and/or step, and free rent
TIs paid according to bell-shaped curve allocations, LCs paid in multiple installments
Valuation and disposition of the retail component independently of the office component
Up to two layers of construction financing and a permanent takeout loan
Up to three joint venture equity partnership players and up to two 5-tier IRR-based waterfalls.
Model Tabs
1    Back of the Envelope Model
2    Assumptions Input
3    Capital Structure
4    Site Plan
5    Retail Tenant 1
6    Retail Tenant 2
7    Retail Tenant 3
8    Retail Tenant 4
9    Retail Tenant 5
10  Retail Tenant 6
11  Retail Tenant 7
12  Retail Tenant 8
13  Retail Tenant 9
14  Retail Tenant 10
15  Office Tenant 1
16  Office Tenant 2
17  Office Tenant 3
18  Office Tenant 4
19  Office Tenant 5
20  Master Leasing Tab
21  Sources & Uses of Funds
22  Cash Flow
23  Public Parking Income
24  Sources & Uses Annual
25  Source & Uses Quarterly
26  Cash Flow Annual
27  Cash Flow Quarterly
28  Transaction Summary
29  Partnership Structure
30  Waterfall #1
31  Waterfall #2
32  JV Returns Summary 3 Players
33  JV Returns Summary 2 Players
34  Soft Costs Budget Schedule
35  Hard Costs Budget Schedule
36  Gantt Chart
37  Office TI & LC Amortization Schedule
38  Retail TI & LC Amortization Schedule
39  Permanent Loan Amortization Schedule
40  Construction Bell Curve
Model Timeline
15 years (expandable)
Reports
Print-ready, brandable reports are included in the model. See the Sample Reports link above.
License Type And Multiple-User Pricing
Licenses are sold on a per-user basis
Multi-user pricing quotes are available here
Included With Purchase
Blank template (inputs are all set to zero) and a version of the template with a sample deal loaded in
1 year of online ticket-based support
SPECIAL BONUS ($179 value)
Equity Joint Venture Partnership and Waterfall Modeling Bootcamp Video Tutorial included with purchase
Includes the following items, which never expire:
 Online access to an easily navigated 80-minute Video Tutorial, playable on any device including PC, Mac, phones and tablets
 PDF of the 60-slide presentation
 Accompanying fully-unlocked, annotated Excel file, compatible with both PC and Mac, with the following tabs:
Preferred Return Non-Compounded Annual
Preferred Return Non-Compounded Annual Solution
Preferred Return Compounded Monthly
Preferred Return Compounded Monthly Solution
3-Tier Annual Waterfall with Look-Back
Double-Promote Profit Sharing
Double-Promote Monthly Waterfall # 1 with Look-Back
Exercise – Rebuild Tier #3
Double-Promote Monthly Waterfall #2 with Look-Back
Double Promote Returns Summary Exhibit
Alternate Compounding Periods
Sample Partnership Structure 1
Sample Partnership Structure 2
Sample Partnership Structure 3
Claw-Back.