An Excel-based analysis tool for the ground-up development, operation and ultimate disposition of a self-storage facility. The model is monthly in nature, and it is a 100% unlocked Excel file with fully transparent formulas that can be further tailored to suit the particulars of your transactions.
User-Friendly Features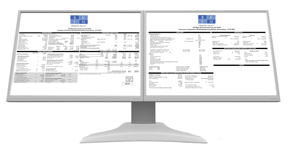 Compatible with both PC and Mac
Includes instructions for use, with detailed annotations tied to select cells
Two-page assumptions input and reporting screen optimized for dashboard-style viewing
Persistent calculation checks and data validation protections to prevent faulty inputs
Hyperlink navigation enables fast, intuitive access to all tabs
Institutional-quality print-ready reporting tabs that are brandable to your company
S-Curve distribution of Soft Costs by individual line item
No circular references impacting the calculation of the construction loan size and funded interest
Includes copy/paste tab for "next buyer" analysis to be housed and presented in REFM's Valuate® web-based software
Functional Highlights
The model supports the following:
Separate unit mixes, rents and absorption for Climate- and Non Climate-Controlled units
One layer of construction financing and a permanent takeout loan
Up to two joint venture equity partnership players with a Preferred Return and a single residual split
Model Tabs
1    Back of the Envelope Model
2    Assumptions Input
3    Capital Structure Exhibit
4    Unit Mix Inputs
5    Monthly Sources and Uses of Funds Input
6    Monthly Cash Flow Exhibit
7    Joint Venture Partnership Structure Input
8    Profit Splitting Exhibit
9    Annual Sources and Uses of Funds Exhibit
10  Annual Cash Flow Exhibit
11  Joint Venture Returns Summary Exhibit
12  Monthly Permanent Loan Amortization Schedule Exhibit
13  Monthly Construction Bell Curve Lookup Table
14  Hard Costs Budget Schedule
15  Soft Costs Budget Schedule
Model Timeline
15 years (expandable)
Reports
Print-ready, brandable reports are included in the model. See the Sample Reports link above.
License Type And Multiple-User Pricing
Licenses are sold on a per-user basis
Multi-user pricing quotes are available here
Included With Purchase
Blank template (inputs are all set to zero) and a version of the template with a sample deal loaded in
1 year of online ticket-based support