An interactive Video Tutorial that teaches you how to model the acquisition and individual unit renovation (with continued operation) of a multi-family rental building with ground-floor retail and income-producing parking. The principles and skills taught apply equally to duplexes and 1,000-unit complexes.
You will come to understand the risks and income generation/cost savings opportunities inherent in performing a value-add renovation program while continuing to operate the building.  Includes fully-assembled, fully-unlocked Excel file and hands-on Tutorial exercises and accompanying solutions.
Topics covered include:
Integration of historical property data and existing rent roll into your pro-forma
Modeling of future lease expirations and renewals and the individual unit renovation program
Modeling of operating expense savings gained from the renovation/greening of apartment units
Modeling of acquisition loan financing, residual equity requirement, and permanent take-out loan/refinancing
Constructing amortization tables and using the VLOOKUP function efficiently
Property Disposition modeling
Running of sensitivity analyses around key variables in 2-way Data Tables.
Also applies to the acquisition of distressed or foreclosed properties.
Product includes the following items, which never expire:
 Online access to an easily navigated 75-minute Video Tutorial, playable on any device including PC, Mac, phones and tablets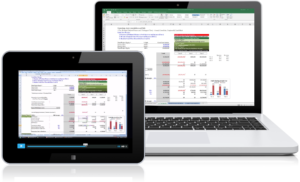 Accompanying fully-unlocked, annotated Excel file, compatible with both PC and Mac, which you can repurpose for future analyses
The Excel file includes the following tabs:
Rent Growth Variables
Assumptions Overview block diagram
Rent Roll
Assumptions
Renovation Timing
Cash Flow Overview block diagram
Monthly Cash Flow Exercise
Amortized Renovated Unit Losses
Monthly Cash Flow Solution
Annual Cash Flow
Amortization Schedule for Acquisition Loan
Amortization Schedule for Permanent Loan
PDFs of slide presentation and Offering Memorandum for a Miami Beach, FL apartment complex