An interactive Video Tutorial in which you will learn big picture real estate private equity fund basics, the general legal structure of funds based in the U.S., how to set up a fund-level model, and considerations for running sensitivity analyses. Topics covered include modeling a typical investment's net cash flow, rolling up of multiple investments, projection of management fees, and the partitioning of cash flows to the limited and general partner ownership interests based on a typical fund catch-up structure.
Also includes modeling of individual transaction partner promote structure, and a fund-level clawback. The case study used is a Core-plus fund that acquires existing income-producing properties.
Purchasers follow along in Excel in real time and perform exercises to ensure they are grasping the lesson and are mastering the technical skills being taught.
Product includes the following items, which never expire:
 Online access to an easily navigated 84-minute Video Tutorial, playable on any device including PC, Mac, phones and tablets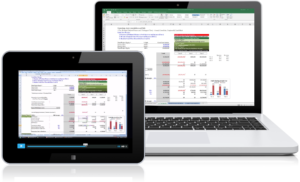 PDF of the 32-slide presentation
 Accompanying fully-unlocked, annotated Excel file, compatible with both PC and Mac
Topics Covered
Big picture fund basics:

Capital sources
Major types of funds
General legal structure
Rationale behind disproportionate reward to the General Partner/Fund Manager through a promote structure

Modeling and then replicating a prototypical transaction starting at Net Operating Income and ending at Levered Cash Flow
Weaving in and rolling up and modeling multiple transactions on the fund-level
Considerations for running sensitivities
Individual transaction typical partner joint venture structure and modeling
Fund-level clawback
Video Tutorial Contents
Introduction (30 sec)
Big Picture Fund Basics (90 sec)
Major Types of Funds (2.75 min)
U.S. Legal Structure (90 sec)
Rationale for Promoted Interest (90 sec)
Preferred Return and Promote Structure (90 sec)
Clawback Introduction (15 sec)
Fund Modeling Approach (2 min)
Spreadsheet Tab Ecosystem Overview (30 sec)
Prototypical Transaction Tab Overview (1.25 min)
Spreadsheet Formatting Conventions and Training Format (60 sec)
Typical Transaction Tab (5 sec)
Acquisition Assumptions (15 sec)
Financing Assumptions (20 sec)
Cash Flow Assumptions (30 sec)
Exercise #1 and Solution (20 sec)
General Expense Inflation and CapEx Assumptions (20 sec)
Disposition Assumptions (30 sec)
Timeline and NOI (90 sec)
Capital Expenditures (40 sec)
Financing Section (20 sec)
Exercise #2 (20 sec)
Exercise #2 Solution (20 sec)
Ending Balance (20 sec)
Total Debt Service and Debt Service Coverage Ratio (20 sec)
Net Distributable Cash Flow (10 sec)
Leveraged Yield on Equity (40 sec)
Residual Proceeds (1.2 min)
Unlevered and Levered Cash Flow (35 sec)
IRR (15 sec)
Manager/Fund Cash Flow (30 sec)
Exercise #3 (40 sec)
Exercise #3 Solution (90 sec)
Modeling Approach Review (10 sec)
Fund Tab Overview (40 sec)
Fund tab (10 sec)
General Fund Level Assumptions (60 sec)
Acquisition Timing Assumptions (30 sec)
Waterfall Hurdle Rate Assumptions (90 sec)
Operating Assumptions (40 sec)
Net Cash Flow to Fund (30 sec)
Investment #1 Net Cash Flow to Fund (50 sec)
Resetting the Transaction Tab (70 sec)
Exercise #4 (75 sec)
Exercise #4 Solution (80 sec)
Fund Level NCF From Investments (5 sec)
Cumulative Fund Level Net Cash Flow (20 sec)
Fund Level Expenses (5 sec)
Start Up Costs (10 sec)
Acquisition Fee (75 sec)
Exercise #5 (20 sec)
Exercise #6 (35 sec)
Exercise #5 Solution (75 sec)
Exercise #6 Solution (20 sec)
Fund Level Net Cash Flow After Expenses (25 sec)
General Partner Cash Flow (30 sec)
Remaining Cash Flow for LP and Fund Manager (10 sec)
Management Fees (10 sec)
Exercise #7 (75 sec)
Exercise #7 Solution (2.5 min)
Net Cash Flow For LP and Fund Manager (15 sec)
Cumulative Cash Flow Net of GP Cash Flow (10 sec)
Net Cash Flow To Fund (GP, LP and Fund Manager) (30 sec)
LP Capital Account Beginning of Period Balance (10 sec)
LP Equity Drawn (10 sec)
Preferred Return Accrual (20 sec)
Exercise #8 (5 sec)
Exercise #8 Solution (45 sec)
LP Pro Rata Cash Flow (60 sec)
LP Account Ending Balance (1.5 min)
Partnership Cash Flow Distribution (10 sec)
LP Investments/Distributions (10 sec)
Net Cash Available to LP and Fund Manager (20 sec)
Fund Manager Promote Share (90 sec)
Exercise #9 (90 sec)
Exercise #9 Solution (3.5 min)
LP Share of Net Cash (15 sec)
GP Cash Flow (5 sec)
Total Partnership Cash Flow (50 sec)
Summary of Investor Cash Flows (30 sec)
Summary of Equity Investment (80 sec)
Checking Total Equity Investment Amount (50 sec)
Fund Returns Summary (2 min)
Individual Partner Promote Tab (25 sec)
Individual Transaction Equity Capitalization (20 sec)
Individual Transaction JV Structure (90 sec)
Individual Transaction Partner Promote Exercise Tab (35 sec)
Partner Waterfall Structure (1.2 min)
Capital Contributions (30 sec)
Gross Proceeds to JV (15 sec)
Gross Proceeds Available to Manager/Fund (30 sec)
Tier 1 (40 sec)
Beginning of Period Balance (10 sec)
Manager/Fund Injections (30 sec)
Manager/Fund Preferred Return Accruals (10 sec)
Tier 1 Manager/Fund Distributions (80 sec)
End of Period Manager/Fund Balance (10 sec)
Manager/Fund Cash Flow (20 sec)
Partner Equity-related Cash Flow (40 sec)
Partner Promote-related Cash Flow (25 sec)
Tier 1 Remaining Cash to Distribute (1.2 min)
Tier 2 (50 sec)
Exercise #10 (25 sec)
Exercise #10 Solution (1.3 min)
Tier 2 Manager/Fund Cash Flow (5 sec)
Tier 2 Partner Equity and Promote Cash Flows (5 sec)
Tier 2 Remaining Cash to Distribute (15 sec)
Tier 3 (20 sec)
Returns Summary (70 sec)
Clawback (4.5 min)