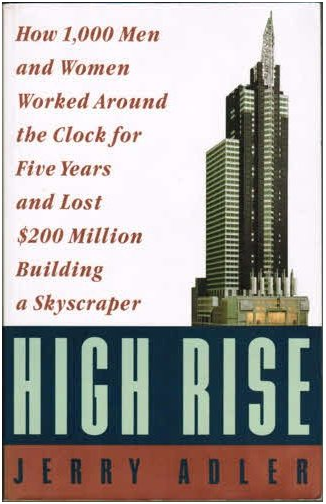 High Rise (published in the early 90s) is a fascinating read about the development and unfortunate timing of the delivery of a Manhattan office building into the incredibly weak early 1990s market. The central character is New York developer Bruce Eichner, and the building in question is the now Bertelsmann Building, located at 1540 Broadway (the north side of Times Square).
The tale is extremely well told by Newsweek journalist Jerry Adler, who clearly understands the nuances of the art of the deal. The cast of characters is colorful, as you would expect it to be in a NYC skyscraper story.
I grew a little tired of the detailed descriptions of the designing of the building, but maybe that's just because I am more interested in the deal structure and financials by nature.
Every building has a story… Unfortunately this one did not have a happy ending for the financial stakeholders. But it's a worthwhile read, if for no other reason than to help us all stay humble and grounded.
You can buy it used here.
Have you read it? What did you think?