Listen to this post if you prefer
Value-add investing in apartment properties is the oldest play in the book for how to create wealth in the real estate game.  While it's easy to get lost in the weeds if you approach your screening analysis wrong, modeling out these deals does not have to be incredibly complicated or time-consuming. In this post we will explain how to avoid losing sight of the big picture and how to get to a point of clarity efficiently with respect to pricing the potential acquisition.
What is a value add apartment deal?
Quite simply, a multi-family value add play is an investment in an apartment building where there is a plan to raise rents significantly as a result of capital investment in the physical property. Generally this investment manifests as upgrading the unit interiors with new flooring, new kitchen cabinets, counter tops and appliances, and perhaps also as bathroom fixture and tile improvements. One of the attractions of implementing this strategy is that you can get all of your equity back and maybe even more if you refinance your acquisition debt after the property's NOI stream has been stabilized at a higher level than it was when you acquired the building.
Which apartment renovation deals potentially have the most profit in them?
All else equal, the uglier, more musty and disgusting the property inside and out, the potentially more profitable. The play is to take something existing that has bade cosmetics (but with no structural issues) and rehab it and then reposition it in the market as the opposite of what it is now. If the property is relatively unattractive to other supply in the market, then there is a nice amount of room to bump the rents once the product can command those higher rents. So go ugly with good bones.
Don't fall for the trap of being "precisely wrong" when screening deals
While it's tempting and noble to want to take the property's entire rent roll and forecast out exactly how much each unit will individually need in renovations, and forecast the rent premium each unit will command individually on the back end of the renovation, this is not a wise use of your time. Do you really think you're going to be right when there are dozens or hundreds of units? Think again. Spending hours estimating will result in you being "precisely wrong", which is not something to brag about.
The fact of the matter is that you have a bundle of apartment units producing an aggregate cash flow stream. The pool of units all blends down to a hypothetical average unit that commands a hypothetical average rent (e.g., a 900-square foot unit renting for $2,000 a month). Given the renovation program scope of work will likely be identical across the units, meaning they are all starting from a similar state and will all end up at the same level of finish, it's logical to apply an average renovation budget per unit, and also an average monthly rent premium (e.g., $300 a month) upon returning the average unit into service.
What your value add analysis should show
When we perform a value-add projection analysis, what we should expect to see in the net operating income profile depends on the property's occupancy at the point of closing and on the remaining length of the in-place leases. Let's take two examples, the first where there is 100% occupancy, and the second where there is 75% occupancy. Assuming you are not buying tenants out, in the first situation, as the new owner you will elect to leave certain units vacant when the current tenant lease terminates and they vacate. These units are the ones you will renovate first. So you will be deliberately allowing the NOI stream to take a hit for the sake of executing the renovations of what once were cash flowing units.
In the second situation with only 75% occupancy, you can simply renovate the vacant units, so there is no loss of in-place NOI as you work your way through that non-cash flowing subset of the unit inventory. Once you are through those vacant units, though, there will be negative impact to the NOI stream after you start plucking once-cash flowing units offline to renovate them.
Always keep the big picture in focus
In both of the above examples, here's what we see after we start to dig into stock of once-cash flowing units: NOI expectedly drops and then eventually recovers to a state of stabilization and smooth growth, with these dynamics naturally coinciding with the unit renovation schedule.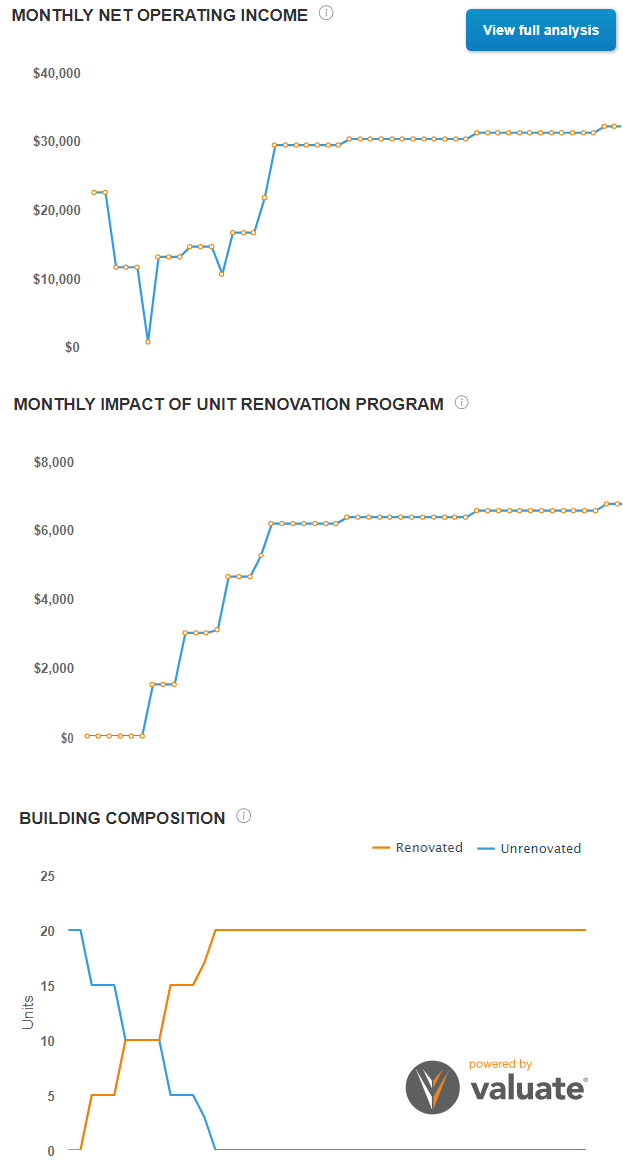 From a cash on cash return perspective, while we take a haircut in the early period, that sets us up for a full return of equity in the subsequent period through a refinancing at a higher property value. In the example below, a cash-out refinance is shown, where not only is all invested equity returned, but additional equity is taken from the property on an income tax-deferred, non-recourse basis.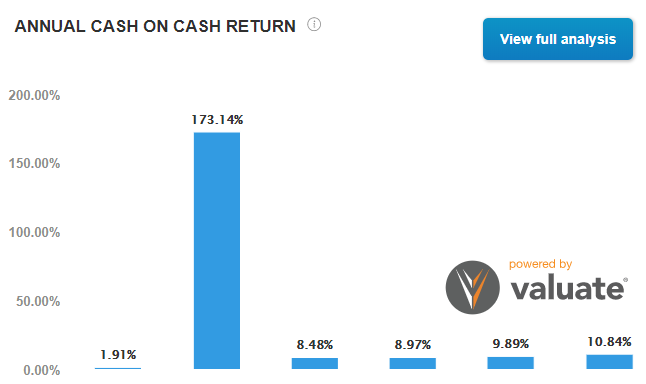 Check out this video to see how easily and quickly this renovation and refinancing analysis can be accomplished in Valuate.
Login Now
Register Now