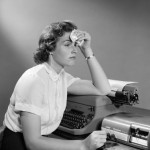 To what extent does the increased versatility and productivity gained from software and the Internet eliminate some of the need and/or defer some of the desire for new administrative level job creation, and thus more office space demand?
Think about how many tasks you can efficiently do by yourself today using off the shelf (and more so, off the web) software that would not have been efficient to do alone 15 years ago.
Some examples:
Managing your contacts (seen a Rolodex within the last 5 years?)
Correspondence (how many paper letters and paper memos are now taken from idea to final copy by the sender themselves?)
Document sharing (sent a fax recently?)
Screening your phone calls using caller ID and services such as Google Voice.
My first job out of college was as an Assistant in Hollywood.  It was totally cruddy, but that's how you start out if you want to make it in "the biz". My peers were a mix of recent Ivy League grads and "lifer" secretaries. I spent a lot of time faxing and photocopying, and manning the phone, secretly passing a caller's ID to my boss with a machine called a Minitel, a primitive precursor to instant messenger that had its own keyboard and a one-line screen. Some of the young ambitious recent college grads elect to persevere and go on to choose your TV programming, and some bail out for what they feel is something better for them.
Over the last several years, a lot of administrative jobs have been shed across all industries, and many executives who had support staff have come to manage just fine with the aid of software and the web.
The question becomes, then, is there an impetus, or a reluctance, to re-hire for these support functions in the anticipation of future growth? And if not, where do these workers fit in? And what does that mean for office space demand going forward? (What percentage of typical office space programming is dedicated to executive support staff?)
I debate this often with friends and colleagues. They counter that there are lots of new jobs that deal with the very technologies that have potentially obviated these support roles, to which I argue that maybe they are not capable of these types of jobs. Answering phones and coding in HTML are not equivalent in terms of difficulty. I get some dirty looks for seeming condescending, but it's the cold hard truth and it needs to be heard.
Any thoughts? Let's hear them.
Does anyone know a good source for identifying the mix of functional roles that were previously played by the currently unemployed?