We all want to work faster in Excel. That's why we take the time to learn keyboard shortcuts (get for PC | get for Mac). Beyond that and our formula-writing skills, our productivity is severely limited by our ability to view information on various worksheets to verify changes we make in one tab are being reflected as expected on another tab. We find ourselves flipping from our inputs tab to the cash flow tab and back, over and over.
But did you know that you don't have to do so much flipping? You can instead view two sheets of the same file at the same time through the Arrange All feature. Here are the steps to take advantage of it:
View > New Window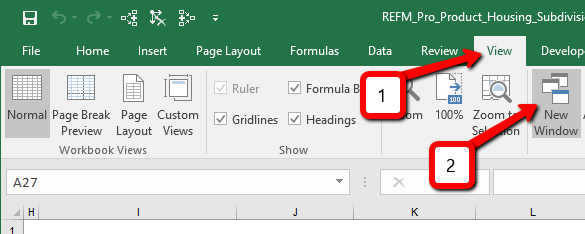 View > Arrange All > Vertical (and check Windows of active workbook)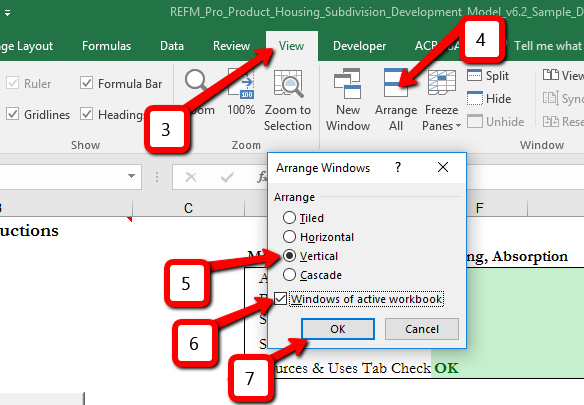 Now you have two instances of the same file open at the same time. One of the file titles will show a ":1" after the name and the other will show a ":2" after the name. They are "equal" in that the most recent action in either will translate to the other window (in other words, the file is really only open one time, you simply have two views into it at once). When you close one or the other, the ":1" and ":2" suffixes will disappear. (Incidentally, you can repeat these steps if you want a third window.)
You can drag the windows such that they are side by side and you can flip to any tab you want in either window, allowing you to see both inputs and outputs in a single field of view and to continue modify the file.
For even more speed, you can install a "window manager" program such as MaxTo (the one I use) to set predefined screen regions so you don't have to drag windows into place nearly as much.