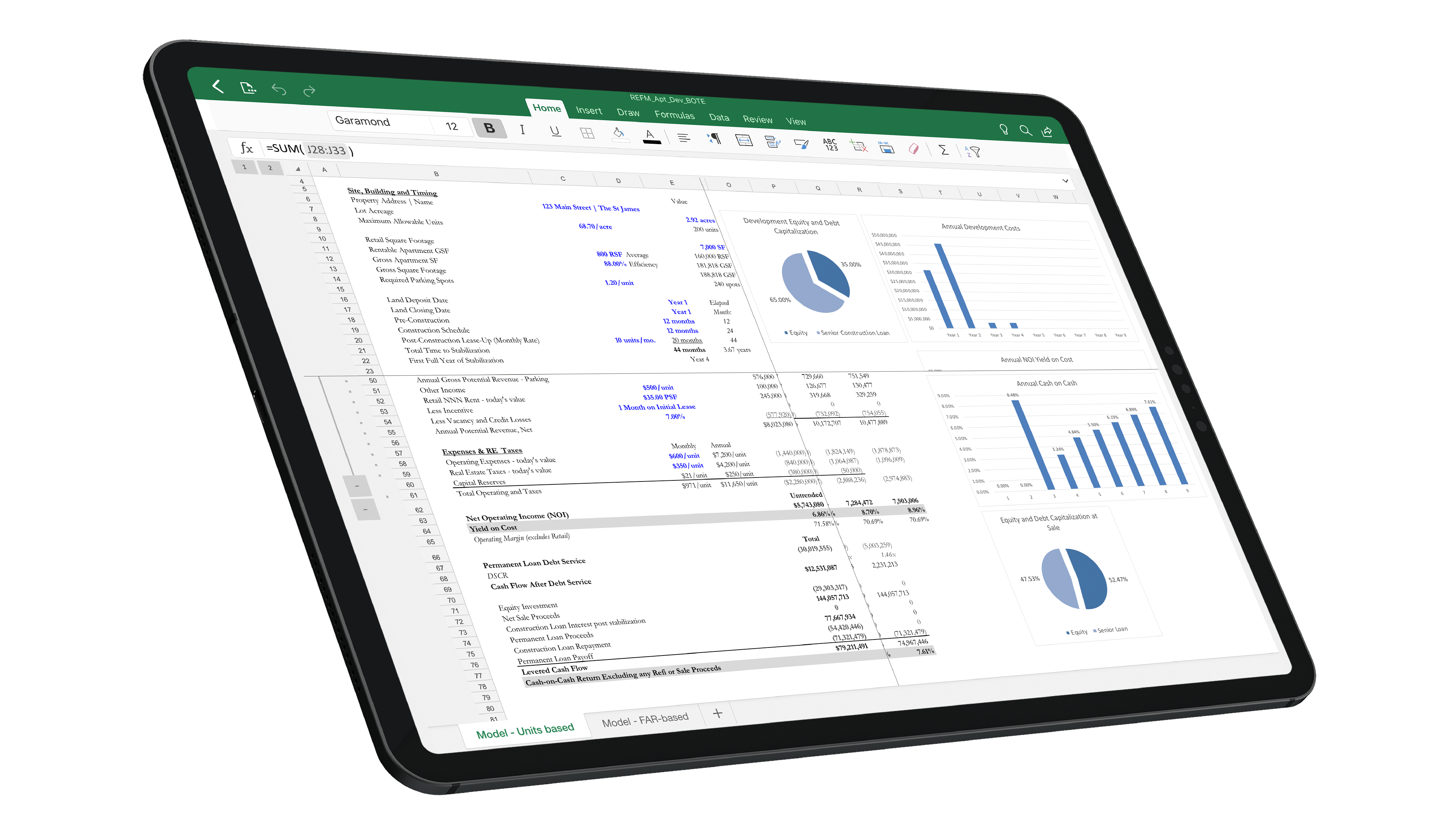 This product is best for
Rapid feasibility that generates a before-tax IRR, net profit, multiple on equity and NPV outputs.
Overview
An Excel-based annual spreadsheet analysis tool for the acquisition of an existing apartment/multi-family rental building that allows for modeling of the renovation of individual apartment units while continuing to operate the building.
A blended average building-level approach is used to simulate the income and expense profiles of both pre- and post-renovated unit states. By design, there is no rent roll or unit mix, and the model does not key off of specific unit rollovers and renovations. Rather, it approximates the unknown sequencing of the unit rollovers using an average unit renovation budget and the aforementioned blended average income and expense values.
The model is a 100% unlocked Excel file with fully transparent formulas that can be further tailored to suit the particulars of your transactions.
User-friendly Features
Compatible with Excel on PC, Mac and iPad
Includes detailed annotations of input cells
Data validation protections to prevent faulty inputs
Functional Highlights
The model supports the following:
Use of T12, T9, T6 or T3 historical data for inputting income and expenses
One layer of acquisition financing (amortizing or interest-only, or amortizing with an interest-only period)
Simultaneous two-variable sensitivity analysis shown in data tables.
Model Timeline
11 years
Reports
Print-ready 1-page presentation
License Type And Multiple-User Pricing
Licenses are sold on a per-user basis
Multi-user pricing quotes are available here
Included With Purchase
1 year of online ticket-based support
Ability to upgrade to the Standard or Professional models by just paying the difference in price