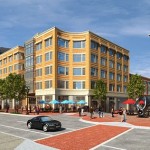 Over the last few weeks, The Washington Business Journal has been reporting on once-stalled Washington DC Metro Area speculative development projects (across product types) that are now moving forward because capital commitments have been made.
Here are a few of note:
Rosslyn-Ballston Corridor in Arlington (What makes it special? Proximity to the District of Columbia, lower business taxes, lower crime and less population density, and nice views of the Monuments)
Residential:
191 units – Zom Inc.'s rentals
186 units – Zom Inc.'s The Waverly rentals
117 units – Abdo Development's Gaslight Square condominiums
149 units – Ironwood Realty Partners' Garfield Park rentals
Office:
136K SF – Skanska's 1776 Wilson Boulevard (see rendering above)
14th Street / U Street Corridors in Washington, DC (What makes them special?  In a city that has been called many things, but never hip or cool, these pockets are actually hip and cool)
231 units – Jefferson Apartment Group and Perseus Realty's 14W rentals
125 units – JBG and Grosvenor's District Condos
What is causing lenders and equity players to suddenly return developers' calls and re-enter the market?  Simply the perception of future value, most likely buttressed by the fact that the DC region is and will remain the headquarters of the federal government, effectively the largest company in the world with the greatest ability to create regional positive economic ripple effects.  Second, DC's attractiveness as a real estate investment market is helped by the natural check on over-development in place due to the District of Columbia's height restriction of no more than 140 feet (depending on the zone and other nuances).
Also, you have to think, even if it's cynical, that the powers that be at the capital sources are operating under pressure to deploy capital to achieve internal mandates and also to give themselves the opportunity to get real bonuses again.
Is DC a leading indicator for the US and global real estate markets?  In other areas of industry, one typically monitors the smaller players to see if their sales are increasing to note the coming of an upswing.  The fundamental difference with real estate is that inventory isn't perishable, and you can't write it off. Rather, it just sits there and continues to weigh down asking rates in the market.
So while it may seem harsh, secondary and tertiary markets may not recover for several years.  About a year ago, I was beating the drum that the only way for our real estate markets to return to a healthy balance any time soon would be for lenders and the government to literally destroy stock.  People looked at me like I had lost it.  Then we were seeing things like this:
Do we need lenders and government to play this role in more markets, and not just with respect to housing, but also for office, industrial, and hotel?  If so, what implications does that have for the future of real estate?