The verdict is in on crowdfunding. It's here to stay, which is terrific for those who have not previously had access to real estate investment opportunities.
If you're an investor and you want to stress test a deal in which you are considering investing, what variables should you be stress testing?
Everyone says "you make money on the buy", but most crowdfunding deals have already made the buy, so land/property Purchase Price is no longer a variable. So the question becomes, which of the deal variables should you perform sensitivity analysis around?
The two most impactful variables to investment performance other than Purchase Price are rent growth and exit valuation (i.e., exit cap rate).
The Quick Load mode animation below shows an illustration of loading a deal into Valuate (crowdfunded or not) by making just four inputs (Purchase Price, Year 1 Effective Gross Revenue, Year 1 Operating Expenses, Annual Growth Rate). I wanted to run three scenarios in all, so after this initial file was created, I created two other scenarios from it.
The three resulting files were named:
2% NOI growth, 9 Cap Exit (downside case)
3% NOI growth, 7 Cap Exit (upside case)
3% NOI growth, 8 Cap Exit (base case)

 

I was able to do this in Valuate in 90 seconds, and then compared the three side by side, and the result was this phenomenal comparison page, which gives me insight into the transaction's performance as advertised, if things go really well, and if things don't go so well.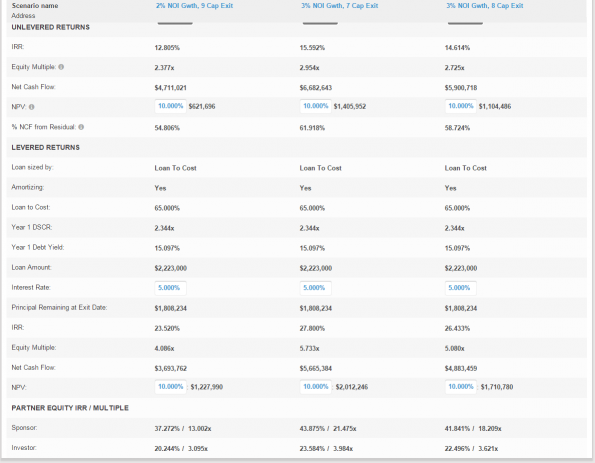 Use Valuate for free… it's silly how easy it's become to analyze and present like a pro with our new Quick Load mode.