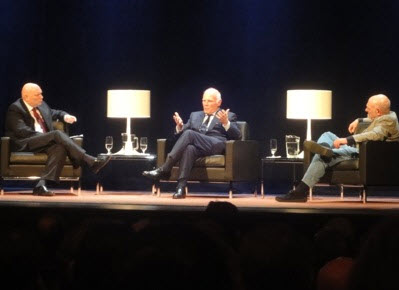 DeBoer, Roth and Zell, from left to right, at DC's Warner Theatre
Yesterday I had the good fortune to attend a "town hall" style conversation between Steve Roth (Vornado) and Sam Zell (Equity), moderated by Jeffrey DeBoer of The Real Estate Roundtable.  It was a fascinating and inspirational couple of hours listening to these  luminaries.  They shared their insights on the current state of the economy, on what is important to them in terms of seeking out investments, and recounted war stories from over their careers.  Sam Zell said that net population growth is the most important thing he looks for in choosing international markets, and Steve Roth concurred, saying that urbanization in net positive population growth countries is what creates value.
Messrs. Roth and Zell were also extremely funny and played well off of one another.  If you ever get a chance to see either or both of them speak, make it your business to do so. You feel smarter after you hear them speak, and it reminds you that while this is a serious business, if you don't have fun along the way, you're missing out.
And on that note, today is St. Patrick's Day, so if you're still in the office, get out of there and go celebrate!