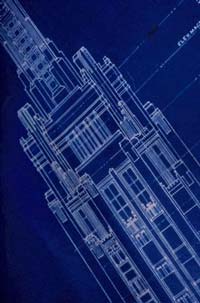 When I was progressing through business school in the early 2000's, I was dead-set on working in real estate development. In particular, I wanted to work for someone developing hip urban infill lofts. I was lucky enough to land a job doing land acquisition for a company that was developing that very product in Washington, DC (unfortunately, they are now defunct, along with many others from that era).
I have always known that I am a relatively impatient person, but I had convinced myself in business school that the physicality and long-lasting nature of buildings was enough of a psychic reward to override that part of my personality and keep me happy in the development business over the long term. In retrospect, I was wrong. As much as I enjoyed the hunt for land and the analysis involved in residual land valuation and deal structuring, I was equally bored and unhappy once the hunt for the deal was over.
My personality is more suited to solving puzzles and teaching technical skills, which is why I do what I do now, and why I am much happier than if I were in charge of updating a pro-forma every month with actuals for a 5-year span. I guess that is where they got the expression, "do what you are". If you are fundamentally patient, then owning a pro-forma and updating monthly actuals is not so bad, even though it is tedious by nature.
In thinking about how I have come to know myself better through trial and error in my career, here are my thoughts on how to know if you are "cut out" from a personality perspective to be a real estate developer. Let's consider this a preliminary list. I welcome your contributions and thoughts.
Personality Traits Of Long-Term Real Estate Developers
Patience. Learning from my own personal failed experiment, I'm convinced that you're either a patient person or you're not.  While you can adopt a mindset of greater patience, it's a grind to have to work every day to be someone you are not, and it will likely end up in you being unhappy. Development is a years-long process (sometimes just the sell-out or leasing period is years long), and if you are not able to comfortably accept that any project of scale will likely consume half a decade of your life or more, then you should steer clear of the development career path (unless you will be OK for your entire career only pursuing smaller scale projects in jurisdictions with little regulation, which is fine, but economically limiting).
Willingness to really listen to, engage, and invest in the community in every sense of the word. If you are too dense, egotistical, self-centered or arrogant to close your mouth and actively listen to what others have to say about your project, then you might just have a remarkably short career in development. Successful developers listen, because they truly believe at their core that the project is not about them, but rather it is about the end users and the neighbors (and that success is more likely to follow if they take care of the end users and neighbors).  Because they truly believe this, they pro-actively engage the zoning board, the historical board, neighborhood commissions, and the community at large, and take who these parties are and what they say seriously.  Any one of these groups could kill your project swiftly, so you had better be willing to ingratiate yourself with them and heed their messages.
Ability to stomach risk. Being a developer is like being a movie producer or the founder of a company – you have to be the coordinator, promoter and unwavering cheerleader of your project, even when things look grim.  If you cannot keep an outwardly upbeat attitude because the various risks of the project are eating away at you, others will lose confidence in the project and it could implode as a result.  One of my mentors once asked me how I handled risk, and my combination of naivete and eagerness to be a developer caused me to say "I handle risk really well!".  What the heck did I know about risk at 25?  Nothing.  True financial, legal and reputational risk is downright scary, so if you want to be a developer, you need to be sure that you can sleep well despite it, or at the very least convincingly internalize it (and then cry at home or to your therapist).
The degree of persistence that comes only from passion. Development is a thousand-step, thousand-decision endeavor, and many of these steps and decisions come with challenging barriers.  If you do not truly love the thought of developing the project (not just the thought of making money from it), you will not have what it takes to press on to success. It is just too hard to persevere without passion fueling your spirit every morning.
Willingness to delegate and outsource. Developing a project of scale is bigger than any one man or woman.  It must be the very definition of a team effort if it is to go well.  Even if you're an architect and attorney and have your own capital, you'll likely engage others to assist in the project.  You'd be crazy not to, unless you literally are happy never sleeping more than 3 hours a night and not doing anything other than working.
A sense of humor. Business can be really tough and frustrating.  You need to be able to laugh off the smaller things, or the larger things will drive you to the brink.
What have I left out?  Let's hear from some experienced developers!