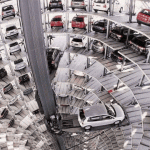 Washington, DC is now joining the group of jurisdictions where parking ratios for new developments are going from required minimum ratios, to maximum allowable ratios. This is being done to reduce the car-centricity of District residents and those who work there. Developers are collectively breathing a sigh of relief and celebrating, as the cost to build below-grade parking is typically $40,000 per space (or significantly more if you have to go "robotic"), and it is very hard, if not impossible to make a profit on the spaces.
P. Michael Saint of The Saint Group is one of the professionals who has seen this coming across the country and internationally, as his business is to devise, coordinate and execute public campaigns on behalf of developers to get their projects accepted by the community (and thus more likely to be approved by the regulators). If you want to keep up on zoning and land use news, be sure to check out The Saint Report for the latest.
As one of my mentors told me, the two most important things about urban development are to be able to confidently answer these two questions in the affirmative: 1) Can you park it?, and 2) Can you get the neighbors?
Will parking maximums present new problems? Probably, as developers must always build to the market. Just as zoning agencies were and are still behind the times by keeping high minimum ratios in locations served by transit, the zoning agencies will probably overdo it by imposing maximums that don't allow for enough parking for developers to cater properly to their end user. This will end up exacerbating the challenge of finding street parking, and rile the neighbors up.  And around and around we will go.