This post is from another one of our new Guest Contributors, Chris Furlong of Arlington, VA.  Chris works in commercial real estate in Washington, DC.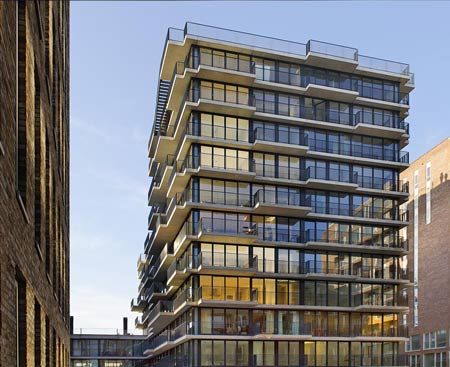 By Chris Furlong
With U.S. apartment market vacancies finally back below 10%, the rental housing market recovery is underway.  As demand continues to increase and the vacancy rate drops further, rental hikes are expected.  According to Lindsay Deutch of John Burns Real Estate Consulting, top rental markets such as San Diego, Seattle, and Boston will see rises of well over 10% for the next couple of years.  With a shift away from the risks and costs of home ownership following the continuing foreclosure crisis, many people are choosing to rent homes or apartments.  However, apartment developers may struggle to meet this increased demand, and the lack of available supply will continue to put push rents higher.
While bad news for renters, the multifamily sector will continue to reap the rewards of increased rental volume and accelerating prices.  According to the PwC Real Estate Barometer, a new system for analyzing commercial real estate data, the average capitalization rates compressed between 39 and 73 basis points in regional apartment markets over the first quarter.  Average cap rates across all property types decreased in 27 of the 31 markets surveyed, with the multifamily sector leading the way.  According to Mitch Roschelle of PwC's US real estate advisory practice, most domestic apartment markets are in a recovery phase, and continued optimism has helped drive cap rates down.  With the increased income stemming from the continuing shift toward renting, cap rates should continue to fall.  Tight lending restrictions will also push prospective buyers towards apartments and will no doubt further the multifamily recovery.  According to the survey, the demand for housing will increase the portion of multifamily stock in the expansion phase through 2014, when it is expected to hit 30.2% of available stock.
With excellent fundamentals, the multifamily market should continue to expand and rent will likely increase until the industry meets the growing demand for apartment rentals.  However, the lure of foreclosed homes that continue to come on the market does stand to threaten rental hikes.  The national vacancy rate rose to 13% according to the Census Bureau's report earlier released on Monday.  If the cost of home ownership falls significantly below the cost of renting homes or apartments as it has in these cities, the lure of the American Dream may dampen the recovery of the rental market.  Until then, lock in at a fixed rate and renew your lease!
What are your thoughts?