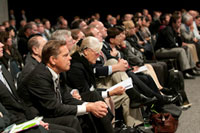 The unofficial word from a ULI contact was that this year's Fall Meeting attendance was on par with last year's at around 5,500.  While I was tethered to my exhibit booth, I asked everyone I could how the mood was inside of the sessions.  Most replies were that things were level on the whole — not upbeat, but not gloom and doom either. One contact who was on the Master Planned Communities Council noted that while typically the council members are griping about the effort and cost of seeking entitlements, no one was complaining this year because no one had any funding to seek them in the first place.
There was a lot of interest in REFM's Excel Models partly because after all of the mayhem in the last few years, people seem to want to be able to make a fresh start, and having a new, third-party built model helps them to achieve that.
Real estate education also seems to be thriving.  The university section in the Urban Land Expo was bigger this year than I remember it ever having been, with programs from all across the US.  This is reflected locally in Georgetown's Master of Professional Studies in Real Estate program having grown to over 300 students in the last couple of years.
This all makes sense to me — as we have learned in this cycle, education, while not cheap, is never as expensive as ignorance.
What did you take away from the sessions at ULI, or how is the sentiment in your local market?