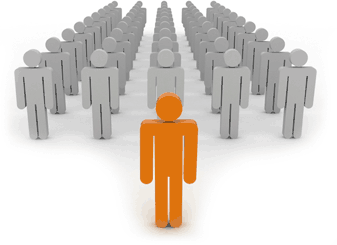 Hi All, and Happy Memorial Day to those who are enjoying a 3-day weekend! Since as of last week there are a lot of newly minted graduates from both undergrad and masters programs, I figured I would dedicate this post to help those still searching for a position in a still cruddy job market.
I am writing this from the perspective of someone who has personally applied for many jobs, and who has also for the last two years received lots of inquiries and resumes from those seeking positions at REFM, either unsolicited, or in response to job postings that I have made on SelectLeaders.
Now that I have been on "the other side" of the job hunting email (i.e., the recipient), it is crystal clear to me what folks can do to make their inquiries stand out.  As far as I am concerned, it all boils down to the act of DEMONSTRATING your fit and your value add to the employer, not just TELLING them about it.
Here are three examples of how this might manifest itself.
1. Follow Instructions (which implies READ the instructions). I always have a set of instructions as to how applicants should respond to my job postings, such as "include a 2-paragraph cover note in the body of your email."  I have gotten lots of variations on this, such as a 7-paragraph cover note (complete with some exotic misspellings) in the body of the email, and a 1-paragraph cover letter as an attachment "To Whom It May Concern" (even though I provided the full name of my colleague as the point of contact).  Put simply, if you do not DEMONSTRATE that you can read and follow a simple instruction that is designed to make the employer's life easier in evaluating candidates, what would cause the employer in any sane way to believe that you would suddenly be able and willing to follow instructions once you had been hired?
2. Read Between The Lines. I had posted for a Marketing role once, and in response I received lots of emails from folks simply with their resume attached (nothing whatsoever in the body of the email, not even the words "Resume attached."!).  Let's just think about this for a second… if any company is going to conduct formal or even informal marketing campaigns, wouldn't you think that there would likely be some use of words in that campaign?  Of course there would, and most likely there would be lots of writing involved in conceiving and carrying out the campaign. So what possesses someone who is purportedly going to help a company weave words into dollars to not even make the effort to string together a few keystrokes into a salesy cover note?!?  Isn't that remarkable? (Let me know if I am being a jerk here, but I think I am justified in being totally blown away by the sheer lack of strategic thoughtfulness there on the part of these candidates.)
3. Show Off Your Work. Back in the day when folks would mail resumes via the US Postal Service, there was a real marginal cost to mailing out each additional resume, namely the cost of postage and the pain in the butt of addressing the additional envelope in nice penmanship so that the person who opened it didn't judge you negatively based on that initial impression.  Additionally, if you wanted to send a work sample, you would likely have had the incremental cost of more postage.  Today there is essentially zero marginal cost to sending out each additional resume, and certainly no marginal cost to attaching a PDF, Word or Excel file that DEMONSTRATES to the employer your passion for the subject and the level and quality of work that you do.  So why on Earth wouldn't you do this?  Do you think that people are going to be so blown away by your selection of Garamond as your resume font that they will be falling over themselves to get to the phone to call you?  Sorry to rant, but I want to make sure that you understand this.
So if the job you seek is an analytical job, attach a model that you have built from scratch, with all of the formulas annotated, which shows that you know what they all do.  If it is a broker position, attach a portion of your market analysis and deal tracking spreadsheet.  If it is a marketing job, attach some copy you have written or a mock-up that you made.
If you want to stand out, DEMONSTRATE, don't just tell.  Talk is cheap. Good luck!