In some real estate acquisition transactions, the buyer has the legal option — or is obligated — to keep the in-place senior mortgage loan on the property. This is known as "assuming" the loan. What it means is that a new borrower entity replaces the original borrower entity, keeping everything else about the loan the same.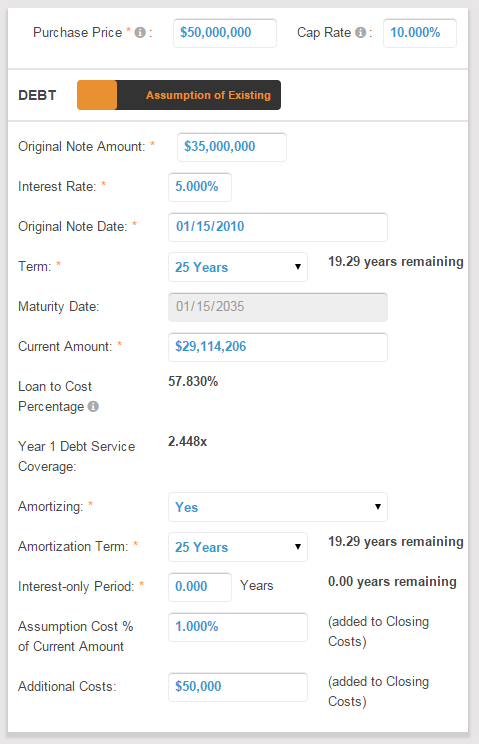 This can be advantageous to the new buyer if (all else equal) the payments on the in-place loan are lower than what they would be on new loans at the point of property purchase.
Here are the data points that are needed to model the loan assumption properly:
date of original Note
original Note amount
loan term, amortization term, and any interest-only term (from which you can calculate the remaining terms of each starting at the current date)
maturity date
current amount outstanding
There are always costs associated with taking on financing, even with assumptions, so you will want to also model into your closing costs section:
assumption cost (% of current loan amount outstanding)
additional costs (dollar amount for legal, administrative).
How does this all work with an amortization table?
You will want to have an amortization table that runs off of the original Note inputs, and then create a separate column to renumber the elapsed loan months as they relate to the new borrower's time with the loan.
For instance, let's say these are the inputs, and October 1, 2015 is the current date:
date of original Note – 1/15/2010
original Note amount – $35,000,000
loan term and amortization term – 25 years each (no I/O period)

term remaining – 19.29 years each

maturity date – 1/15/2035
current amount outstanding – $29,114,206 (this is the loan amount from which the new buyer will calculate their LTV)
current month of loan – month 69
So in terms of the amortization table, elapsed month 69 is the new borrower's "month 1", and their month 1 payment will be the payment that is calculated for month 69 of the original loan placement.
It's a lot of moving parts, but Valuate makes this very easy for you on the Sources of Funds screen. In the Debt section (as shown above), toggle the debt type from "New Loan" to "Assumption of Existing" by clicking on the button.