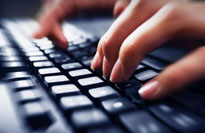 I have heard about some companies that give take-home financial modeling tests to job applicants, where the test isn't due back for a matter of days.  The value of these to employers is questionable. What job applicant doesn't enlist help from all of the most experienced modelers they know the second they get the test?
If I were an employer who gave take-home tests, I would do the following:
1) Immediately reject anyone who did not have a 100% accurate answer, because they don't even demonstrate the effort it takes to call in a favor and have someone else help them do their work so they can get the job
2) Immediately reject anyone who turned in a messy spreadsheet, because they don't demonstrate the willingness to turn in a presentable work product, not even during the courtship phase of the relationship
3) Further consider those who turned in perfect spreadsheets, but test these applicants in person under proctored conditions to see if they actually did the work themselves, or at least came to understand how to do the work in the process of having someone else do the work for them.
Maybe I'm being too harsh, but I can't help thinking about how competitive the world is.  Have you ever been in New York City and just stood still and marveled at how many people there are, just in New York, who are all essentially striving for the same exact thing from 5 to 9 (no, I didn't accidentally transpose the numbers)?  It's kind of scary, especially when you think about how the U.S. grows in population every day.  Makes you want to not sleep sometimes and just work and work and work to secure your hold on where you are currently.
Are you an employer who gives these tests, or have you taken one and gotten feedback on your work product?  Am I partially or totally paranoid?  Let's hear your thoughts.